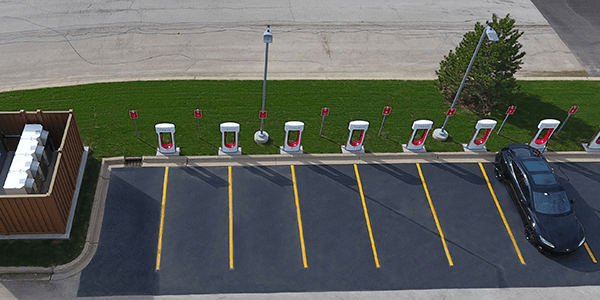 Project Name:
Tesla Supercharger Station
Project Location:
North Aurora, Illinois
Project Type:
Electric Vehicle Charging Infrastructure Installation
---
Tesla Motors (headquartered in Palo Alto, California) manufactures luxury electric vehicles and innovates energy storage. To support its vehicles nationwide and abroad, Tesla provides a network of strategically placed Supercharger stations. Tesla's network currently boasts 1,332 Supercharging stations globally with 10,900 Superchargers. Tesla identified North Aurora, Illinois as an optimal location for Illinois' tenth Supercharging station. Since the North Aurora project, Advanced Data has installed Tesla Supercharging stations in Bolingbrook, Rolling Meadows, Skokie, and multiple locations in Chicago.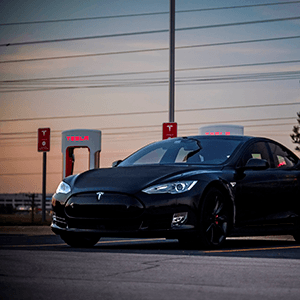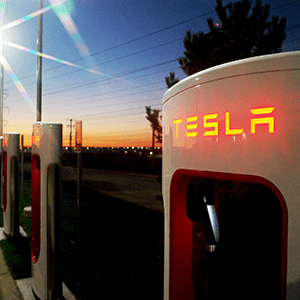 Advanced Data Technologies was responsible for the entire Supercharger installation including coordination with ComEd, permitting with the Village of North Aurora city, primary pathways for the ComEd transformer, site grading, trenching, installation of concrete pads, equipment enclosure, charging stations, supercharging cabinets, electrical switchgear, conduits and conductors, testing, signage, and landscape restoration. ComEd comes in at 480 volt, 3 phase, 800 amp service. The North Aurora Supercharger station features four (4) cabinets supporting eight (8) charging stations. Each station has the capacity to charge at 400 DC volts at 300 amps for up to 120kW of power direct to battery. This allows Superchargers to provide vehicles with 170 miles of range in as little as 30 minutes.